Tuesday, September 21, 2004 &nbsp &nbsp &nbsp &nbsp &nbsp &nbsp
I watched "Naked Weapon" with my lil sister and we had such a great time. Yah, siguro sasabihin nyo na matagal na to.. kaso ngayon ko lang talaga napanood. Hehe.. Late na noh?! Pro ganda..
And what's more, there are these hilarious scenes in between where the girls express their "feelings and desperation" as if we really care. Some of them are downright funny, like this girl who said "it's so unfair, it's been hell since day one," as if she has just been struck by the idea after six years in captivity. Haha..
And after several years of gruesome training, only Charlene, Katt, and Jill survive.. Galing nila noh?! Pgpatayan ba nman ksi ng ksma?! Six years mgkakasama kayo tas in the end kayo din pala magkakalaban.. Ano yun gulatan?! HehE..

Napaluha nga ako banda dun sa part ng pinugutan ng ulo si Katt sa harap pa mismo ni Charlene.. Parang ang bigat sa dibdib..

Monday, September 20, 2004 &nbsp &nbsp &nbsp &nbsp &nbsp &nbsp
La lang, i just wanna post this pic. The girl (in left) beside me is kaye.. This is taken in their house..
kya ko to pinost kasi mamimiss ko sya.. hahaha.. *as in to the highest level ng tawa* corny..
pupunta kasi sya ng tagaytay this friday?! tama ba?! or saturday?! hayy,, kainis nman! di me mkakapunta sa inyo this saturday,, hmmpp! hehe.. Miss ko na si Ara.. (bading, dating PA ni Ara mina) haha!
bka mgklimutan.. pasalubong ko.. lol.. laki ng extra money mo..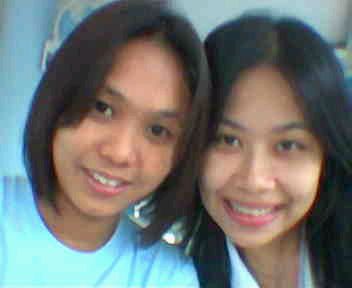 yan wallpaper ng fone ko ngaun..
Gigil ako! may nagdelete ng mga wacky pics. naten sa fone ko..

Saturday, September 18, 2004 &nbsp &nbsp &nbsp &nbsp &nbsp &nbsp
Atlast, I have my new skin na.. tagal ko nga bago napalitan template ko.. My friend says ok na naman daw ung dati bat ko pa daw papalitan, maghihirap lang daw ulit ako.. Eh kasi po, ordinary lang ung template ko kung yun na lang diba?!
Tsaka I like more my new skin.. hehe.. Congrats me nman.. Halos maduling na ko sa maghapong nakaharap sa net.. But its worth it nman diba?! Ano ba yan, prang di pa ko convince sa new skin ko.. Hehe..

Wednesday, September 15, 2004 &nbsp &nbsp &nbsp &nbsp &nbsp &nbsp


All the girls are jealous of my beauty. All the guys drool over my fly booty. You'll never meet another quite like me. So seize the moment for as long as that may be..

Sexy baby -- round five feet.
Cutest gurly you'll ever meet.
Soft skin and a perfect smile.
Lips that drive every guy wild.

Sexy lil girly with the sparkle in her eyes. Luscious lil mami with a great ass and thighs. Perfect lil angel with the bestest smile. The chick that all the guys got on speedial.

If those people only knew how much I disrespect them, they'd thank me for holding it in.

Perfect smile - Pretty face
Lips every guy wants to taste
Gorgeous hair - Sexy eyes
Baby I got you hypnotized

Bitches like me live like queens. Sluts like you live on your knees!!

When God made me he was just showing off.

Always flirting and putting on a show Girls always hatin and boys saying WOAH!

Few will enter. Many will glance. But do you honestly think, That you have a chance?

Don't think of me as a hoe. Think of me as the girl you wish your boyfriend never met.

Some call me gorgeous. Some call me sweet. Bitches call me five words. The one you can't beat!

Flirting with me may lead to extreme. Infatuation And in some cases unbelievable pleasure.

If I'm daddy's little girl then I can't be with the boys. So I'll hide them in my room and say that they're my toys.

Don't yell at your boyfriend. If he stares as I pass. I just can't help it I was born with this ass.

I was born to please and taught to tease.

You say you're not a hoe. Alright, no doubt. Next time you say that, Make sure you wipe your mouth!

Mirrors don't talk, and lucky for you, they don't laugh either!

I might seem prude. And sometimes a lil rude. You may think I can't have fun. Or that I'm the innocent one. Stop being confused and put me in the mood. And one day you'll see what I can do.

Sweeter than Heaven, hotter than Hell, I'm a real angel as you can tell!

You can call me a slut. Too bad it ain't true Sorry bitch, but I ain't you!

Breakin' hearts - Stealing guys
Ain't nobody like this bad girl for life
Jewelry danglin' - Eyes gleamin'
This lil chick is nothin' less than steamin'

We love to party, kiss and tease. We certainly know how to please. Dirty dancing, you scream for more Just remember, I'm not a whore.

For all you people that talk about me. I got one word for you
J-E-A-L-O-U-S-Y.

Your jealousy is my power; ever wonder why I'm so hyper?

I play mah game like monopoly. I dare ANY bitch to land on my property

I don't play hard to get.I just ain't easy to receive.

You see, you like, you try, you fail...I see, I like, I want, I get.


Tuesday, September 14, 2004 &nbsp &nbsp &nbsp &nbsp &nbsp &nbsp

A girl can wear guys clothes and not look totally weird! I mean, if a guy wore a girl's clothes well, you know what I'm saying! Our friends don't say "Hello" to us by punching us on the arm! If we're on a ship, and it hits an ice berg, we know we'll get seats on the lifeboats! There are always cubicles in our bathrooms!Dark circles under your eyes? A ait? Just cover it up with some makeup! No sweat! We don't have to shave our faces every morning!We get to slay scary vampires!At least one girl always survives in horror flicks! We don't have to wear Y-Fronts, and our underwear is totally prettier!No matter how old we are, we can always take our teddy bears to bed!We don't have to wear really sweltering hot tuxedos to the prom or to weddings!Slumber parties! Guys are so missing out here!We don't feel the need to slap our friends on the back when they do something well! Pick up lines Are something we don't have to practice!We can get away with wearing platform shoes to make us look taller! We give great advice! I mean do you ever seen a guy do an advice column?We always have the coolest supernatural powers on the TV shows! We've got far better clothes than guys! We can paint our nails and do facials without feeling silly! We have the sweetest songs and poems written about us!We don't have to sit on our wallets!Girls can carry a handbag which holds absolutely all the necessities, without looking strange! We're called "Tomboys", guys are called "Girly Sissies"- I'll let you decide which is better...Girls have much nicer, neater handwriting than most guys- its true! Girls with guys first names -like Bobbi, Joey- sound cool, but it totally doesn't work the other way around -ever seen a guy named Margaret or Jane? We can create 'girly' pretty sites, and not be embarrassed!We can like colors like pink and babyblue, and not be laughed at!

Monday, September 13, 2004 &nbsp &nbsp &nbsp &nbsp &nbsp &nbsp

I hate labels. They are very mean. They put you into a category. Like you can never be good enough. Like oh im punk so i can't hang out with those preps over there. Like Avril Lavine. Avril created a steryotype for people. Like if you wear a tie you are considered like one of her fans. She did not invent ties. Some of my friends wore ties just for fun. They were not one of her fans. They would be like hey avril. I think that it is awful to catergorize someone. Like, if you shop at HotTopic you are considered "Gothic". Gothic actually means bright and light. It was a word used to describe churches in the middle ages. Labels exclude people and make them feel inferior. It is just wrong to make someone feel bad about who they are and how they dress.

Sunday, September 12, 2004 &nbsp &nbsp &nbsp &nbsp &nbsp &nbsp

I grew up reading every fairytale there was, from Cinderella to the Beauty and the Beast, from The Frog Prince to the Swan Princess. You name it, I had read it all. In every turn of page, I was fascinated in the world of dragons, magic and evil stepmothers. And of course, how can I forget the kilig love story of the beautiful princess and her prince charming? Belle and her Beast (who turned into a handsome prince), The Princess and the Frog Prince( who also turned into a handsome prince) Even Shrek and Princess Fiona (who turned into an ogre).
Growing up with these stories made me wonder what life has in store for me. And how my own fairytale will unfold.

Like most girls I know, I already had an image conjured up in my mind of that special someone who would rescue me from a locked tower, someone who would protect me from a wicked witch, someone who would fight dragons and monsters just to be with me. My One True Love.

Zoom. Fast forward to present.

After 17 years of living in the real world, I still havent found that someone yet. I kissed a lot of frogs but they didnt turn into a prince. They were just plain frogs Ewww). I had nothing else to do but wait. So I patiently waited and waited and waited.

Im just wondering who is that special someone who will rescued me from my darkest hours, Who protected me from any harm that came our way. Who that special someone whos willing to went against all odds just to be with me. And whos that special someone whom I pictured in my mind and about a million times better.

I may not know what the next page of my life will bring. What I do know is that my own fairytale would be as colorful as any fairytale there is. (Well I hope so!)



Friday, September 10, 2004 &nbsp &nbsp &nbsp &nbsp &nbsp &nbsp

When you think of your past love, you may view it as a failure. But when you find a new love, you view the past as a teacher. In the game of love, it doesn't really matter who won or who lost. What is important is you know when to hold on and when to let go! You know you really love someone when you want him or her to be happy, even if their happiness means that you're not part of it. Everything happens for the best. If the person you love doesn't love you back, don't be afraid to love someone else again, for you'll never know unless you give it a try. You'll never love a person you love unless you risk for love. Love strives in hurting. If you don't get hurt, you don't learn how to love. Love doesn't hurt all the time. Though the hurting is still there to test you, to help you grow. Don't find love, let love find you. That's why it's called falling in love because you don't force yourself to fall. You just fall. You cannot finish a book without closing its chapters. If you want to go on, then you have to leave the past as you turn the pages. Love is not destroyed by a single failure or won by a single caress. It is a lifetime venture in which we are always learning, discovering and growing. The greatest irony of love is letting go when you need to hold on and holding on when you need to let go. We lose someone we love only when we are destined to find someone else who can love us even more than we can love ourselves. On falling out of love, take some time to heal and then get back on the horse. But don't ever make the same mistake of riding the same one that threw you the first time. To love is to risk rejection, to live is to risk dying, to hope is to risk failure. But risk must be taken because the greatest hazard in life is to risk nothing! To reach for another is to risk involvement, to expose your feelings is to expose true self, to love is to risk not to be loved in return. How to define love: fall but do not stumble, be constant but not too persistent, share and never be unfair, understand and try not to demand, hurt but never keep the pain. Love is like a knife. It can stab the heart or it can carve wonderful images into the soul that always last for a lifetime. Love is supposed to be the most wonderful feeling. It should inspire you and give you joy and strength. But sometimes the things that give you joy can also hurt you in the end. Loving people means giving them the freedom who they choose to be and where they choose to be. For all the heartaches and the tears, for gloomy days and fruitless years, you should give thanks, for you know, that there were the things that helped you grow. Loving someone means giving him the freedom to find his way, whether it leads towards you or away from you. Love is a painful risk to take but the risk must be taken no matter how scary or painful, for only then you'll experience the fullness of humanity and that is love. Only love can hurt your heart, fill you with desire and tear you apart.Only love can make you cry and only love knows why. If you're not ready to cry, if you're not ready to take the risk, if you're not ready to feel the pain, then you're not ready to fall in love. There was a time in our lives when we became afraid to fall in love 'coz every time we do, we get hurt, then i figured that's why it's called falling in love.

Thursday, September 09, 2004 &nbsp &nbsp &nbsp &nbsp &nbsp &nbsp

Alam nyo nakakatawang isipin kung paano nasasabi ko sa sarili ko na "I believe in love." Nakakatawa sya kasi sa buong buhay ko, ni wala pa yatang nagpakita sa akin o nagparamdam ng lintek na pagmamahal na yan. Ang ibig kong sabihin yung pagmamahal na tipong nakakabaliw.
Sabi pa nga minsan nung isa, "We're better off as friends." PUCHA! Kaibigan?! Sa lahat ng ginawa ko para sa kanya at sa lahat ng sinakripisyo ko, kaibigan lang pala ng habol nya sa akin. Ano ba ito, lokohan lang? Pero sige, sabi ko "move on, move on." Tapos itong isa naman sabi "Mabait lang ako sa babae kaya ako ganito sa iyo." Lalong masakit! Bakit? Hanep naman kasi. Bibisitahin ka linggo-linggo sa bahay, magiging sweet sa iyo, kakantahan ka pa, at higit sa lahat sasabihing napakaganda mo at napakabait at ano ba yun 'special' girl ka sa kanya. Hindi mo aakalain na normal lang pala nyang ginagawa yun. Ikaw naman, mafofall ka, hindi mo mapigilan. SORRY NAMAN! D KO SINASADYA! Pero wala ka namang magawa. Ang sabi ko naman sa sarili ko ngayon, "it's your loss, not mine."
Yung iba naman, eh di syempre manliligaw. At dahil likas akong dalagang Pilipina, papakipot muna ako. Kung kailan mo na sasagutin, saka naman hihinto. Bakit? Aakalain na hindi mo sya gusto, na pinaasa mo lang at wala kang kabalak-balak sagutin. Guys, isang advice lang, hindi naman kayo paaasahin ng mga babae kung wala silang gusto ni katiting sa inyo. Maaaring mali ako, pero karamihan sa amin, kaya pinapatagal eh dahil gusto kayong subukan kung hanggang saan ang tagal nyo at syempre kung gaano kayo kaseryoso. Yan lang naman ang drama namin, masanay na kayo. At ano naman ang sabi ko naman sa sarili ko ngayon? Bahala ka! Marami pa naman dyang iba!" Tapos sige move on ulit.
Ito ang pamatay sa lahat. Nanligaw si lalaki, sinagot ni babae. Maganda na sana ang relationship tapos isang araw, sasabihin na lang sa iyo, "Hindi ko na kaya. Tapusin na natin ito. Iniwan ka na lang basta ng dahil sa isang dahilang hindi mo malunok, maintindihan at tanggapin. Ni hindi mo alam kung gusto mong sabunutan o suntuk-suntukin ng paulit-ulit baka sakaling matauhan at sabihin nyang, "Joke lang po." Pero hindi. Sa halip na sya ang makaramdam ng sakit ng sabunot at k irot ng suntok, ikaw pa ang halos mamatay sa triple or higit pang sakit. At ang masakit pa kinabukasan malalaman mo na ang tunay na dahilan eh, 'sila' na ng matalik mong kaibigan. PUCHA! Hindi mo alam kung iiyak ka, o sisigaw ka o susugurin mo ang your so-called "bestfriend" at isumbat sa kanya lahat ng nararamdaman mo. Sa huli, wala kang magawa kung hinde tanggapin ang lahat at maging masaya para sa kanila. May magagawa ka pa ba? Sasabihin mo naman sa sarili mo, "Makakarma rin kayo!" tapos hala, move on ulit.
Nakakapagod magmahal, totoo yan. Pero bakit pa rin ako patuloy na naghihintay? Masyado lang ba ang tiwala ko sa pag-ibig o likas na tangengot lang talaga ako. Pareho yata. Tama, oo, pareho nga. Ang lakas kasi ng tiwla ko sa 'love." Tipong kakambal ko na ba. Masarap magmahal kahit na hindi mo alam kung mahal ka rin nya. Basta ikaw, mahal mo sya. Yun lang ang importante. Makita mo lang sya, feel mo gusto mong magpa-fiesta. Madikitan mo lang ang sinulid ng damit nya, ang sasabihin mo sa sarili mo, "Ay shit! Nadikit ako sa balat nya!" at sabay talon. Ngitian ka lang nya, pwede ka ng magpasagasa sa kotse or kahit sa LRT. Drama noh?
Paano pa kaya kung "kayo" na? Eh di mas lalong humaba ang buhok mo. Andito na yung lagi nilang sinasabing hindi ka makakain, hindi ka makatulog at hindi ka makapag-isip na kahit na ano maliban lang ang mga pantasya mo na kasama sya. Madrama na kung sa madrama pero pag in-love, ay sus! Walang corny-corny, basta para sa kanya kahit may corn field ka na sa utak at puso mo, wala kang pakialam. Patuloy kang magmamahal at aasa na kayo na nga sana forever and ever.
Ako? Parang takot yata akong ma-in-love. Parang takot na akong sumubok pa ng isa. Parang ayoko! Pero parang hindi tama. Ganyan naman sa 'love' di ba? Sige lang, tuloy ka hangga't makita mo ang katapat mo. Takot man akong sumubok muli, kakayanin ko ang takot na ito. Hindi para sa akin, kundi para dun sa taong mamahalin ako ng higit pa sa kahit na ano. Yung taong aalagaan ako, taong magsasabi na maganda ako kahit na halos lumuwa na ang mata ko sa puyat at yung taong magsasabi na "Mga 'tol, yan ang girlfriend ko. Iisa lang yan sa buhay ko." HAAAYYY!!! Sarap isipin noh? Masarap at masakit umibig. Magkakambal yan. Nasa inyo na lang kung pipiliin nyong kumapit o bumitaw. Ngayon eto ako, umaasa pa rin. Andito pa rin ako na nagpapatuloy sa buhay, patuloy na humihinga at patuloy na nabubuhay para sa 'kanya' yung taong darating na para lang sa akin. At syempre eto pa rin ako, natatawa kapag sinasabi kong, "I believe in love." haha..c',)
Ano ba tong mga nasusulat ko... parang baliw noh?! Hayaan nyo na blog coh nman to eh...

Monday, September 06, 2004 &nbsp &nbsp &nbsp &nbsp &nbsp &nbsp

Never again would you hear me mention your name nor would you ever see me look your way. I am done with loving you and I guess its only now that I realized that I am just a person who, like the others, also gets tired. I have been following you for a long time, making believe in the impossible, putting you in this pedestal where I worship you as my god. I have done no crime to deserve this atrocity and starting today, I will no longer mention your name.
Never again would you hear me laugh at your jokes. It doesnt matter if they are funny or not, because apparently, I had stopped laughing at everything because I became numb after you. You should be the one laughing at me because for you, I am just a big joke. You dont deserve a smile, nor a snort, not even a laugh from me because it makes you feel good while I stay on the side, waiting for that one glorious smile that hopefully one day youll give me. And so I waited, and waited for that smile, yet you never gave it.
Never again would I think of you while the rain is pouring. At least I wouldnt feel gloomy in the cold and think of your arms wrapped around me. This chill I feel when the rain is here is better that the chill my heart feels because you are not mine. Now I will be distant, putting a wall between us so that I could no longer pretend you're there.
Never again would I look at the moon and imagine youre beside me holding my hand. Now, you will never see me long for you. Never would I say I love you nor would you ever hear the words love and your name in the same sentence. Ive gone tired thinking of you when I hear sweet music serenading the air. Now, i just couldnt imagine myself thinking of your touch whenever the wind kisses my cheek. Never again would I make you my inspiration, making you the very reason for the poems I make and the stories I write. Never again.
But how could I say all of these things when the only man behind all these words is you?
Tell me, how can I stand up on my own and proudly say NEVER AGAIN without you?!

Teach me. Youre good at it arent you!. Never again!

Wednesday, September 01, 2004 &nbsp &nbsp &nbsp &nbsp &nbsp &nbsp
About Time....
We always hear the rules from the female side, this time its from the MALE side!!!

--->Learn to work the toilet seat. You're a big girl. If it's up, put it down We need it up, you need it down. You don't hear us complaining about you leaving it down.

--->Sunday sports. It's like the full moon or the changing of the tides. Let it be.

---> Shopping is NOT a sport. And no, we are never going to think of it that way.

--->Crying is blackmail.

--->Ask for what you want. Let us be clear on this one: Subtle hints do not work! Strong hints do not work! Obvious hints do not work! Just say it!

--->Yes and No are perfectly acceptable answers to almost every question.

--->Come to us with a problem only if you want help solving it. That's what we do. Sympathy is what your girlfriends are for.

--->A headache that lasts for 17 months is a problem. See a doctor.

--->Anything we said 6 months ago is inadmissible in an argument. In fact, all comments become null and void after 7 days.

--->If you won't dress like the Victoria's Secret girls, don't expect us to act like soap opera guys.

--->If you think you're fat, you probably are. Don't ask us.

--->If something we said can be interpreted two ways and one of the ways makes you sad or angry, we meant the other one.

--->You can either ask us to do something or tell us how you want it done. Not both. If you already know best how to do it, just do it yourself.

--->Whenever possible, please say whatever you have to say during commercials

--->Christopher Columbus did not need directions and neither do we.

--->ALL men see in only 16 colours, like Windows default settings. Peach, for example, is a fruit, not a colour. Pumpkin is also a fruit. We have no idea what mauve is.

--->If it itches, it will be scratched. We do that.

--->If we ask what is wrong and you say nothing," we will act like nothing's wrong. We know you are lying, but it is just not worth the hassle.

--->If you ask a question you don't want an answer to, expect an answer you don't want to hear.

--->When we have to go somewhere, absolutely anything you wear is fine...Really.

--->Don't ask us what we're thinking about unless you are prepared to discuss such topics as:- football, the shotgun formation, motor sport, models in underwear adverts, the price of beer, Cabin cruisers.

--->You have enough clothes.

--->You have too many shoes.

--->I am in shape. Round/Straight is a shape.

--->Thank you for reading this. Yes, I know, I have to sleep on the couch tonight; but did you know men really don't mind that? It's like camping.