Sunday, October 17, 2004 &nbsp &nbsp &nbsp &nbsp &nbsp &nbsp

My friend email this to me..
I wanna share lang this to all.. To boost another woman self-esteem, i guess.

A little boy asked his mother, "Why are you crying?"
"Because I'm a woman," she told him.

"I don't understand," he said.
His Mom just hugged him and said, "And you never will."

Later the little boy asked his father,
"Why does mother seem to cry for no reason?"

"All women cry for no reason," was all his dad could say.

The little boy grew up and became a man,
still wondering why women cry.

Finally he put in a call to God. When God got on the phone,
he asked, "God, why do women cry so easily?"

God said:

"When I made the woman she had to be special.

I made her shoulders strong enough to carry the weight of the world,
yet gentle enough to give comfort.

I gave her an inner strength to endure childbirth and the rejection
that manytimes comes from her children.

I gave her a hardness that allows her to keep going when everyone else gives up,
and take care of her family through sickness and fatigue without complaining.

I gave her the sensitivity to love her children under any and all circumstances,
even when her child has hurt her very badly.

I gave her strength to carry her husband through his faults
and fashioned her from his rib to protect his heart.

I gave her wisdom to know that a good husband never hurts his wife,
but sometimes tests her strengths and her resolve to stand beside him unfalteringly.

And finally, I gave her a tear to shed.
This is hers exclusively to use whenever it is "needed."

"You see my son," said God,
"the beauty of a woman is not in the clothes she wears,
the figure that she carries, or the way she combs her hair.

The beauty of a woman must be seen in her eyes,
because that is the doorway to her heart - "the place where love resides."


******
Hey guys, have you heard the music? I change kasi the background song from Maroon's 5 She will be love to one of my Aerosmith favorite song, I dont wanna miss a thing.. Pro di ko naman sya marinig.. Naka-turn on naman speaker namin.. Bakit kaya?!
******
Hell week is over (i mean the exams). And I thought last friday is our last day in school, kla ko sembreak na.. di pa pala.. Siguro ung iba, pro ung section namin di pa. I need to go to school pa tomorrow 'coz we need to watch the video (im referring to the Oct. 03 entry). Di kasi namin napasa nung 12 kasi pinapa-edit pa daw. So we have no choice but to talk to my prof. and extend her deadline of submission. Buti na lang puamayag sya, pro kailangan tlgang panoorin ung video ng buong klase. I don't know nga what's her purpose eh sembreak na. (kailangan pa bang buong klase?!) Kung wala lang attendance di na ko papasok.. She'll give daw her comments and critics regarding that thing. Nyek! la kong balak marinig sasabihin nya, mamaya mapuna pa acting ko.. Eww, nakakahiya!
Thursday, October 14, 2004 &nbsp &nbsp &nbsp &nbsp &nbsp &nbsp

Badtrip! Bwisit!

I studied the world map (the countries and their capital..)
tapos di na tuloy ung exam!
..then the fact that it is the only reason I went to school early morning.

As in di na namin sya i-tatake..

Gigil e! *cries*

Wednesday, October 13, 2004 &nbsp &nbsp &nbsp &nbsp &nbsp &nbsp
Heya! I'm back.. =)
I'm much better now than the other days.. *wink*

Hirap ng may sore eyes..

Btw, I need to memorize pa the world map.. Got to go.. See yah!

Saturday, October 09, 2004 &nbsp &nbsp &nbsp &nbsp &nbsp &nbsp
I got this one from kulokoy..
i have the permission nman to post this..

Dear Anak,


Medyo mabagal akong magsulat ngayon dahil alam ko na mabagal kang magbasa.
Nandito na kami sa probinsya para tirahan ang bagong bili na bahay
pero hindi ko maibibigay sa iyo ang address dahil dinala ng dating nakatira dito ang
number para daw hindi na sila magpapalit ng address.
Maganda ang lugar na ito at malayo sa Manila.Dalawang beses lang umulan sa linggong ito,tatlong araw noong una at apat na araw naman nung pangalawa.
Nakakainis lang ang mga paninda dito
katulad nung nabili kong shampoo ayaw bumula.
Sumunod naman ako sa sinabi sa labas ng enbelop,
FOR DRY HAIR,naligo ako ng di binabasa ang buhok ko.
Mamaya ay ibabalik ko sa tindahan at magrereklamo ako.
Noong isang araw naman ay hindi ako makapasok sa bahay
dahil ayaw bumukas ang padlock.Nakasulat sa kandado ay YALE,
aba eh namalat na ako sa kakasigaw ay hindi pa din bumubukas.
Magrereklamo din ako dun sa nagbenta ng bahay,
akala nila hindi ko alam naSIGAW ang tagalog ng YALE, wise yata ito!
Mayroon nga pala akong nabili dito na magandang Jacket
at tiyak na magugustuhan mo.Ipinadala ko na sa iyo sa DHL,
medyo mahal daw dahil mabigat ang mga butones
kaya ang ginawa ko ay tinanggal ko na lang ang mga butones
at inilagay ko sa mga bulsa.Ikabit mo na lang pagdating diyan.
Nagpadala na din ako ng tseke para sa mga nasalanta ng bagyo,
hindi ko na pinirmahan dahil gusto ko mapagpakumbaba ang pagtulong.
Ang kapatid mo nga palang si Jude ay may trabaho na dito,
mayroon siyang 500 na tao na under sa kanya.
Nag-gugupit siya ngayon ng damo sa Memorial Park,
okey naman ang kita above minimum ng sahod.
Nga pala, ung si Chita, ung bestfriend mong nagtapat sau ng pag-ibig dati,
e hinahanap ka pa pagkatapos mong umalis dito.
Naiwan mo daw sa kanya ang paborito mong gamit sa bahay nila.
Tinawag niya iyong konsilier at pawndeysyon.
Ikaw talaga, di ka pa nahiya n mag-iwan ng gamit sa isang bahay at babae pa.
Pero anak, hanga ako sa iyo,
hinahabol ka pa rin ng babaeng iyon kahit binigo mo ng ilang beses.
Lalaking-lalaki ka talaga.
Siguro, kailangan mo nang humanap ng mapapangasawa.
Ang tanda mo na, di ka pa rin napapakasal.
Wala na akong masyadong balita. Sumulat ka na lang ng madalas.

Love,
Papa

P.S.
Maglalagay sana ako ng pera kaya lang ay naisara ko na ang enbelop.
Next time na lang ha?

--->haha funny.. isn't it?!
Sunday, October 03, 2004 &nbsp &nbsp &nbsp &nbsp &nbsp &nbsp
Its almost 2 weeks since I have my last entry. Im super busy kasi in school. Tapos finals pa ngaun. Good thing na lang, mababait professors ko at hindi nila pinagsasabay exams nila with our other subjects.

Last Friday, I didnt go to school. La naman ksing gagawin e. foundation day lang naman.
So I and my couz Arrianne decided to watch *Feng Shui* coz Im hearing stories na maganda mga daw talaga. And it's better daw than *The Grudge*. (e hindi nga ako natakot nung pinanood ko un e. slight lang.. haha..) Infairness maganda nga!It is worth seeing with friends, but not worth seeing alone. This is also where the queen of Talk Kris Aquino proves her versatility as an actress. (2 thumbs up!) I spend most of my time screaming. Natakot at nagulat talaga ako! Its really worth it. Im proud, nevertheless, of this movie as a pinoy. It has taken another ground in terms of direction and cinematography. Before kasi nanghihinayang ako kung tagalog movie ang panonoorin ko. I better watch it in DVD. Pero ngayon, aba! Na trilled akong panoorin ang *Fung Shui*. Galing mo Kris (also Chito Roño), na convince nyo ko.. :)


Then Yesterday, we went to Tagaytay. Its for our Travel and Tour class. Yun na finals naming sa kanya. But we didnt go there for fun. (I thought I will enjoy it, di pla napagod lang ako!) We divided the class into different roles. The story is, there should be 20 tourists coming here in Manila to have a City- Tagaytay Tour with 3 days accommodation. Last Friday nagshoot na sila for reservation. Then yesterday ng shoot na kami. Inuna muna nami Tagaytay Tour kasi madali na lang ung dito sa Manila.Tapos Im one of the tourists, hay! Napagod lang ako! And even though I been there, kailangan ko parin bumaba ng sasakyan to go with them. (bakit kasi tourist pa nagging role ko!)
First destination --> Flower Farm, syempre as a tourist we need to appreciate the place. (maganda nga nman, lalo mong maaappreciate kung nature lover ka..) Kunwari magtatanong tanong sa tour guide at tour coordinator..
Second destination --> Palace in the Sky..
Third destination --> Picnic Grove, this is where we had our lunch.. Tapos naghorse back riding din kami (kailangan daw kunan un as a tourist).
Fourth destination --> nagpunta sa mga simbahan at cathedral na may significance. Dapat nga magrerent kami ng boat papuntang taal lake/volcano, kaso kinulang kami sa budget. Saying nga eh.. Then ung city City Tour baka sa Tuesday na lang naming gagawin, ( sa Oct. 12 ksi submission, e ipapa-edit pa nmin) here in Intramuros and Luneta. (paguran na nman to sa paglalakad.. :()


Actually katatapos ko lang maligo, kggising ko lang kasi kanina. Pagkagising na pagkagising ko, binalitaan agad ako ni Arrianne. Guess what?! Galing sya kanina ng Market Market at nagkataon andun ang ASAP Mania (e ano nman ngayon?!) Syempre andun si Diether noh!!! Shocks talaga, nawindang ako dun (kagigising ko lang di ba!) Pinaulit at tinanong ko ulit kung andun nga si Diether. Ang sagot ba naman saken "Andun nga nga! Ang kulit mo!") Sarap kutusan noh?! Nagpigil ako, syempre love of my life ko ata pinag-uusapan. (nyek! Ang corny!) Super inis ako, kung bakit kasi hindi ako ginising ng mga oras na un (walking distance lang kasi un samin!) Sbi naman ni daddy bka daw kasi pangod ako. Nyek! Tanggal agad antok at pagod ko kung siya naman nag makikita ko.. Kainis talaga!

Tuesday, September 21, 2004 &nbsp &nbsp &nbsp &nbsp &nbsp &nbsp
I watched "Naked Weapon" with my lil sister and we had such a great time. Yah, siguro sasabihin nyo na matagal na to.. kaso ngayon ko lang talaga napanood. Hehe.. Late na noh?! Pro ganda..
And what's more, there are these hilarious scenes in between where the girls express their "feelings and desperation" as if we really care. Some of them are downright funny, like this girl who said "it's so unfair, it's been hell since day one," as if she has just been struck by the idea after six years in captivity. Haha..
And after several years of gruesome training, only Charlene, Katt, and Jill survive.. Galing nila noh?! Pgpatayan ba nman ksi ng ksma?! Six years mgkakasama kayo tas in the end kayo din pala magkakalaban.. Ano yun gulatan?! HehE..

Napaluha nga ako banda dun sa part ng pinugutan ng ulo si Katt sa harap pa mismo ni Charlene.. Parang ang bigat sa dibdib..

Monday, September 20, 2004 &nbsp &nbsp &nbsp &nbsp &nbsp &nbsp
La lang, i just wanna post this pic. The girl (in left) beside me is kaye.. This is taken in their house..
kya ko to pinost kasi mamimiss ko sya.. hahaha.. *as in to the highest level ng tawa* corny..
pupunta kasi sya ng tagaytay this friday?! tama ba?! or saturday?! hayy,, kainis nman! di me mkakapunta sa inyo this saturday,, hmmpp! hehe.. Miss ko na si Ara.. (bading, dating PA ni Ara mina) haha!
bka mgklimutan.. pasalubong ko.. lol.. laki ng extra money mo..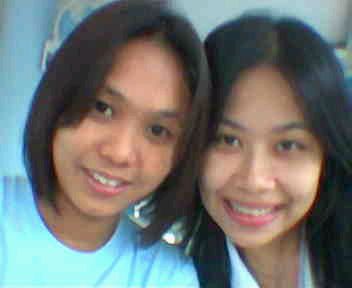 yan wallpaper ng fone ko ngaun..
Gigil ako! may nagdelete ng mga wacky pics. naten sa fone ko..